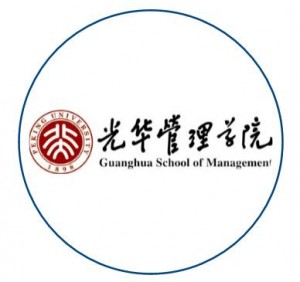 Guanghua School of Management
More than ten years of cooperation receives public recognition
Founded in 1994, Peking University's Guanghua School of Management (GSM) of Peking University is one of China's strongest scientific research oriented business school. In 2001, GSM initially adopted DynEd Solutions as a trial project for its international MBA class with only 60 students. However, in 2002 with a growing and strong demand for domestic MBA students, GSM formally introduced DynEd Solutions as the compulsory English Language courses of all MBA students. DynEd Solutions replaced Public English and other multi-media GSM courses.
According to GSM's management team, "students studying at different times may have different needs and characteristics. For example, ten years ago DynEd began helping educate the top business management talent at a time when education hadn't yet determined the need for 'learning English for practical application.' Fasttrack education has become a common slogan if not fashion in recent years –DynEd leads in English education with appropriate study methods and concepts thatwork, and help students achieve better performance with less effort. Our MBA students have benefited greatly from DynEd Solutions."
Making a big difference even with a little effort in English teaching
Practice and application are the two most important factors in learning English. With the circulation mode of "questioning, creating, exploring and exchanging", DynEd encourages students to make practical use of what they've learned. And, teachers of GSM have grasped excellent English teaching skills through several years' research and exploration. For example, they may find the English proficiency of students and prepare specific exercises to strengthen training for such students on the basis of where students come from originally. GSM professors state, "most people place their emphasis on face-to-face teaching, but rarely pay attention to technology-assisted coaching support via computers. In fact, DynEd's blended teaching methods have played an even greater roleas technology-assisted coaching supporthas greater pertinence and require the involved instructor to be equipped with much greater teaching experience. The reallymeaningful coaching support may make a largedifference even with minimal effort. This is the difference between DynEd English teaching solutions and other multi-media courses are what differentiates DynEd and is key to its successful teaching practice."
MBA students wish to use DynEd Solutions post-graduation
DynEd English teaching solutions help students improve their language application capacities through listening and speaking skill training, and help them establish a stable language structure. And, with DynEd's face-to-face classes, students may expand language and vocabulary, and would be able to use English in their daily work and life in a flexible manner. The DynEd English teaching solutions adopted by GSM MBA Project are aimed at the practical use of English in a commercial environment. The GSM MBA Project assesses students' capacities for practical use of English in the form of teamwork tasks. Teaching method blended with reality may meet specific learning demands and targets of students, fully arouse their enthusiasm for learning English and has produced significant results. During the past 10 years more than 4,000 GSM MBA students have used BEAS and showed a warm response to the course. Many MBA students also apply to use DynEd Solutions post-graduation, to continuously improve English proficiency. DynEd English has becomeone of the most popular courses at GSM.
Due to the unique features of DynEd's concepts and courses, DynEd solutions are designed to solve the fundamental problem of 'why learnEnglish'. We learn English for the sake of practical application, rather than knowledge accumulation. DynEd provides extensive space of creation and imagination for students and teachers. The teachers who really wish to help their students use English and regard English teaching as a lifetime career and genuinely respect and support DynEd Solutions.
Professor Fangwei Guanghua School of Management, Peking University
English was a large weakness for me during the first 30 years of my life. However, after a semester learning of BEAS, I found I've actually fallen in love with the English classes. Ihad never triedor imagined the learning experience, examination systems and other aspects DynEd courses brought me. DynEd courses also helpedme easily use English in commercial environmentsand have benefited me the most during my study at the GSM MBA Project. I reallywish to continue to learn through DynEd courses post-graduationfrom GSM.
Chenlu, Class C, Guanghua School of Management, Peking University