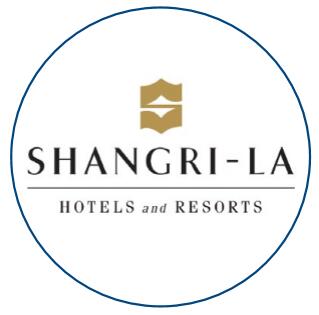 Shangri-La Hotel Group
The first Shangri-la hotel was built in Singapore in 1971. Shangri-la hotel group has become Asia's leading luxury hotel groupand is regarded as one of the world's besthotel ownership and management companies. In view of the challenge for hotel staff to meet language requirements due to the development of the hotel industry, the group has looked for a solution that will upgrade the hotel staff's English language communication skills. DynEd began its cooperation with the Shangri-la Academy in 2006, providing short term English language training for the management and service staff. Shangri-la Academy, affiliated with the group, was established toprovide learners with the tools and training to deliver Shangri-La's brand of hospitality and service.
In 2010, Shangri-la Academy was relocated from Langfang to Zhuhai and DynEd launched a staff Englishtraining program in direct collaboration with Shangri-la hotels. As the number of trainees increased and the training results emerged, DynEd was highly praised as an excellent English language solution provider. DynEd has maintained cooperation with both the Academy and individual branchhotels, with more than thousands of staff from Harbin, Dalian, Shanghai, Wenzhou and Guilin Shangri-la hotelsimprovingtheir English competence with the help of the DynEd language learning solution.
Feedback from Dalian Shangri-la Hotel:
DynEd has provideda fine English learning channel for usto follow. Ourstaff's English skills have improved and their confidence to use English at work is also upgraded. The combination of DynEd and Apple products make learning more convenient. We hope DynEd could develop more courses relevant to the hotel industry and add more functions to the learning system in the Apple or Android tablets, like checking study data etc.
Management
DynEd has helped our listening, speaking and grammar to varying degrees. We really hope to have more time to study DynEd. I'm recommending this course to my colleagues and we can all learn English together with the help of DynEd.
Trainees
Feedback from Harbin Shangri-la hotel: DynEdis easy to use. Unlike traditional language teaching methods, DynEd allows convenient access for learners to practice, anytime and anywhere. The contentofthe course is sufficient and diverse, very suitable for beginners and useful for correcting bad pronunciation.
Sara, Language Instructor
DynEd can quickly improve English speaking skills. Through repeated use of the 'repeat button', oneremembersmuch better; the use of the 'record button' and the 'listen-back button' helps to correct pronunciation. The testing system is very engaging.
Sisi, Instructor, Culinary Arts
Comparedwith other English courses I have taken, DynEdis very effective. After one year's study, my pronunciation got much better. As a result of repeated practice, the English sentences Ilearned are deeply rooted in my brain and I no longer need to think consciously when I speak.
Jimmy, Service Manager, IT
DynEd has helped me to speak better English. More importantly, I have become much more confident when speaking with foreigners. The design of DynEd courses has very good logic with various kinds of topics arranged together, and it's very engaging.
Susan, Service Manager, Finance
Feedback from Wenzhou Shangri-la Hotel: From a daily management perspective, the DynEdsystem is very intelligent. It doesn't takemuch time to monitor how staffhaspracticed. Judging from the results, we realize trainees' progress is evident when they practice 4 to 6 hours per week and apply the correct method. Thiscourse is rich in both quantityand quality.
Rerily Ren, Management
My learning experience as a wholehas beenrewarding. The DynEd system has helped my listening skill. The key to learning English well is concentration and making efforts regardless of the system you use. I'm still progressing.
Catherine Qi, Trainee, Business Center